In a rapidly evolving world where traditional learning techniques are always being supplemented by technology, online programs provide opportunities for educators to advance their understanding of education regardless of where they are. A master's degree in education has various advantages, making it an advantageous venture for instructors and educators. Individuals can also specialize in some regions of interest within education, becoming subject matter experts. Furthermore, it opens possibilities for career growth, higher-paying employment, and leadership positions within educational institutions.
With this, the state of California is a highly appealing destination for pursuing a master's degree in education due to its reputable institutions, numerous program choices, and abundance of professional prospects in the field of education. Its landscape has the potential to further foster ongoing professional development, networking opportunities, and personal growth. 
Here is a list of universities and institutions within the state of California that are offering online programs for a master's degree in education and some of its allied fields:
San Diego State University
University of San Diego
Fresno Pacific University
PennWest California
CalPoly Humboldt
California State University – Fresno
California State University – San Marcos
California State University – Bakersfield
California State University – Sacramento
California State University – East Bay
California State University – Fullerton
With a growing demand for educators with specialized knowledge and innovative teaching approaches, earning a master's degree in education from one of the reputable institutions listed here may provide an excellent opportunity for educators to advance their careers and positively impact the field of education. These prestigious colleges provide a wide range of flexible online programs that enable educators worldwide to engage in continual professional development while embracing the ever-changing landscape of education and technology.
Graduates may explore various career paths beyond traditional teaching roles and influence education policy through these. Ultimately, earning a master's in education represents a commitment to lifelong learning and deeper dedication to positively impacting students and the field of education.
Schools in California With Options For An Online Master in Education Program

Launched in the Fall of 2022, the Master of Arts in Educational Leadership/OPASC Combo Program offered by San Diego State University's (SDSU) Global Campus is an exciting new online program designed for aspiring PK-12 administrators in California. It combines the curriculum from the Online Preliminary Administrative Services Credential (OPASC) program with a capstone course sequence to award a master's degree in Educational Leadership. Furthermore, it is ranked as the 8th Top Online Education master's program by the U.S. News Rankings.
This program, which was jointly developed by specialists from the College of Education at SDSU, intends to equip educators to become quality-driven leaders who can improve school communities. It's entirely online and asynchronous for classes, and one can anticipate using the learning platform and completing coursework for an average of 10 hours per week. The minimum completion time for this program is 1 year.
All in all, choosing San Diego State University may be a great option for one's online education as it is equipped with expert faculty and a well-maintained reputation spanning 125 years. Learning becomes widely accessible with fully online and self-paced courses, allowing one to earn their license and master's degree while continuing to make an impact in the classroom.
---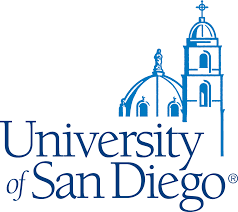 The University of San Diego offers an innovative online Master of Education (M.Ed.) degree program designed to enhance teaching skills with a focus on 21st-century competencies, equity, social justice, classroom inquiry, and the Common Core Standards. Teachers who have worked with students in grades K–12 for at least two years in a variety of educational settings are eligible for the program.
Students can study from top-notch lecturers and educators from all over the country during the 20-month program's 30 units. For working professionals, the online format's flexibility in learning makes it the best choice. The curriculum puts focus on developing students' 21st-century skills, encouraging classroom inquiry, and advancing educational equity. The WASC Senior College and University Commission has granted the program regional accreditation, guaranteeing its high quality and recognition for financial aid and credit transfer.
---

Education has no bounds at Fresno Pacific University, which offers over 20 fully online programs for both degree completion and graduate students. The institution encourages students to realize their goals within a supportive community of staff, teachers, and peers, with a focus on academic quality and Christian principles. Fresno Pacific's alumni are highly sought after locally and internationally for their professionalism, comprehensive knowledge, and leadership qualities, and the university offers more than 45 separate graduate programs. It offers a total of 4 online master's programs in education, which are the following:
Master of Arts in Mathematics Education (Elementary and Middle School Emphasis)
Master of Arts in Mathematics Education (Secondary Emphasis)
Master of Arts in Kinesiology: Physical Education Emphasis
Masters of Arts in Special Education
Overall, the university's affordable and career-focused adult education, along with the flexibility of taking courses from anywhere at any time, caters to the specific needs of online students, who are supported by a dedicated faculty and staff dedicated to their success.
---

A master's in education from PennWest California can advance your profession while allowing you to keep up your full-time employment as a teacher. For more than 60 years, NCATE, the National Council for Accreditation of Teacher Education, has recognized PennWest California as a leader in teacher preparation, and it aims to continue this tradition with CAEP, the Council for the Accreditation of Educator Preparation.
The entire M.Ed. asynchronous course delivery enables students to finish their coursework whenever and from wherever they are. One can also further gain experience from collaborating online with other students and having access to individualized guidance via online learning platforms and tools.
Administrative Program for Principals (M.Ed.)
Advanced Studies in Secondary Education and Administrative Leadership (M.Ed.)
Advanced Studies in Secondary Education and Teacher Leadership – Teaching Endorsement (M.Ed.)
Early Childhood Education (M.Ed.)
Educational Leadership: Educational Studies (M.Ed.)
Educational Leadership: Weather and Climatology (M.Ed.)
Special Education: Applied Behavior Analysis – Autism Track (M.Ed.)
Special Education: Applied Behavior Analysis – General Track (M.Ed.)
Special Education: Autism Spectrum Disorders (M.Ed.)
---

The Master of Arts in Education program at CalPoly Humboldt is geared toward working educators and can aid in developing a deeper comprehension of the major concerns influencing education today as well as more effective approaches to meeting the needs of students of all ages. They also mainly concentrate on rigorous research, equity and social justice, and critical pedagogy.
Upon graduation, its students will be able to employ culturally sustainable frameworks and strategies to address the different needs of students, families, and educational communities. The degree requires a total of 30 units, with core courses accounting for 18 units, and an additional 12 units directed towards a more particular area of emphasis or specialization. These may be in adapted physical education, educational leadership, elementary education, secondary education, or even special education.
Candidates collaborate directly with educators who want to foster your achievement and growth in a friendly environment. Only online and evening classes are available, providing convenient and flexible scheduling. Furthermore, there are no prerequisites for applying, and the university is happy to accept students from all academic fields, making it an inclusive and accessible opportunity for aspiring educators.
---

California State University, Fresno's Kremen School of Education and Human Development offers several Master of Arts in Education degrees. Three specializations are designed to prepare students for advanced study in that field. With this, alumni put their specialized skills to use in several capacities, including working in administration, training future administrators, and more. The three specializations available for a master's degree are namely:
Master of Arts in Education, option in Curriculum and Instruction
Master of Arts in Education, option in Multilingual Multicultural Education
Master of Arts in Education, option in Reading/Language Arts
Teachers and other professionals who want advanced study in curriculum, instruction, educational psychology, research design, and educational statistics should consider Curriculum and Instruction. While if one wishes to give students a professional education based on research on linguistically and culturally diverse learners (LCD), multilingual, multicultural education may be the option for you. This teaches candidates to consider LCD students and their communities in the social and political context of local neighborhoods, schools, and the larger global community. Lastly, there's the Reading/Language Arts program, which offers specialized training for classroom and resource teachers, reading and language development specialists, clinic and curriculum supervisors, and anyone interested in learning more about literacy.
Only the Reading/Language Arts program may be pursued fully online among the three. The program is designed for working professionals, offering flexibility with live sessions and self-paced coursework. Students can take one class every eight weeks or two courses a semester, and technology support is provided through Canvas and Google Classroom integration.
---

California State University San Marcos (CSUSM) is also an excellent choice for an online Master of Education degree. With two distinct programs, the university offers future educators a wide range of opportunities to expand their professional knowledge and career opportunities.
CSUSM's fully online Master of Educational Administration program is designed to combine theory and practice to educate and prepare K-12 school administrators. Run an institution with solid values, improve curriculum and instruction, manage budgets and staff effectively, and prepare for performance reviews as a CAL administrator.
If you're looking for a graduate program geared towards education in reading and language, CSUSM's fully online Reading, Language, and Literacy Master's Program may be a better fit. It provides advanced preparation for assessment and instruction in reading and language skills. This coursework is immediately applicable and allows you to work in different environments to maximize learning for other student groups.
---

Suppose you are interested in obtaining a Master of Arts in Education with an inclination towards Educational Administration or Curriculum and Instruction. In that case, California State University – Bakersfield (CSUB) may pique your interest. They currently offer three Master of Arts programs:
Master of Arts in Education – Curriculum and Instruction
Master of Arts in Educational Administration
Master of Arts in Special Education
Tailored for educators in K–12 settings, the Curriculum & Instruction (C&I) program focuses on promoting equity and integrating educational technology. It aims to enhance your existing knowledge and boost your confidence in driving school reform, elevating student learning, and making a positive impact on the broader community.
The Educational Administration (EDAD) program prepares educational leaders for equitable opportunities in PK-12 education. All candidates participate in a two-semester credentialing program, earning the California Preliminary Administrative Services Credential (PASC) and receiving support for the California Administrator Performance Assessment (CalAPA). For those seeking a Master of Arts in Educational Administration, an additional research-intensive semester is required, focusing on a practical educational issue.
Lastly, CSUB's Master of Special Education program is designed to provide candidates with the knowledge and skills necessary to take on leadership roles in the particular education field. The CSUB Master of Special Education degree is designed to reflect the Council for Exceptional Children (CEC) standards.
---

Sacramento State University or California State University – Sacramento offers graduate education programs that meet the needs of candidates ready to take their career and knowledge in education a notch higher. They offer programs in a variety of subject areas and study approaches, from hands-on learning for qualifications to fully online programs. Additionally, Sacramento State University offers excellent value for money, as many enter their graduate programs to advance their careers at a much lower cost than most private universities.
These master's degrees and certifications provide candidates with advanced learning in the areas of education, mental health, and community engagement. The various programs offered focus on a professional curriculum that prepares candidates to work in a variety of settings, including PK-12 schools, colleges, and community organizations. Their degrees that are offered as online programs include the following:
Master of Arts in Education (Curriculum and Instruction)
Master of Arts in Educational Leadership & Policy Studies
Master of Arts in Universal Design for eLearning
---

The Master of Science in Educational Leadership at Cal State East Bay is a fully online program that equips participants with the knowledge and practical training to assume leadership roles in educational environments. The program is accredited by the Western Association of Schools and Colleges, as well as the California Commission for Teacher Credentialing (Administrative Credentials). They also have different allied degree programs, such as the Master of Science In Kinesiology with different specialization options or the Master of Science in Special Education.
Online students are taught by experienced and reputable educators and receive the same quality of education as regular students. The curriculum is challenging and practice-oriented, offering practical applications focused on key organizational leadership theories, management skills, data analysis, effective communication, and collaborative strategies. Moreover, the program emphasizes the importance of leadership, equality, and social justice. Students also have the opportunity to earn a California Public Service Prequalification, a great opportunity for students looking to advance their careers in the field of education.
---

More than 1200 credential and graduate students attend California State University – Fullerton's College of Education. Students looking for excellent teacher training and graduate degrees in education may also choose it as their destination to pursue higher studies. The College of Education's faculty and staff work to concentrate on three key areas of educator preparation: technology, equitable and inclusive education, and community participation.
To help students progress their careers as teachers, educational leaders, practitioners of instructional design, and developers of educational technologies, Cal State Fullerton offers a variety of online graduate programs. The programs integrate educational theory, research, and practice to support students' continued growth as professionals and educators in linguistically and culturally diverse settings. Their programs are among the Best Online Education Programs for 2020, offered in the United States, according to U.S. News & World Report. These online programs include the following:
Master of Science in Education
Master of Science in Curriculum and Instruction
Master of Science in Educational Technology
Master of Science in Instructional Design & Technology
Master of Science in Literacy & Reading Education
Master of Science in Transformative Teaching in Secondary Education
Master of Science in Special Education
With a wide range of excellent online graduate programs, California State University – Fullerton's College of Education is the ideal destination for students seeking advanced training in education and looking to progress their careers as educators, instructional designers, and educational leaders in diverse settings.