The field of public health is varied and involves numerous subjects that range between scientific and medical practices, advocacy, health and human services, social justice, and more. If you are interested in a career in this field, there are many options to choose from so you can gain knowledge in an area that suits your interests.
Public health professionals are employed at many different types of organizations. These include government agencies ranging from local and state levels all the way to the federal level and even higher. Other organizations where a public health professional may find work are nonprofits that provide healthcare or other services to help their communities. For-profit organizations are another employer of individuals in the public health field. Hospitals and other healthcare offices are yet another example of where a professional may be employed. The variety of workplaces reflects the numerous positions in public health, which is foundational to the wellbeing of the country.
The work performed in each of these organizations depends on the position of the public health professional. Some individuals may perform complex scientific operations, while others are employed in careers that are more public-facing and involve health educations such as how to prevent diseases and how to apply good health practices. Other professions involve creating public health policy or advocating for improvements in said policies for the betterment of the community.
Public Health in California
California is one of the most diverse states in the USA in terms of culture, ethnicity, language, and geography. The state also has the highest population in the nation. These reasons and more mean that public health is very important to advance the well-being of the various communities and individuals in CA. Those who enter a public health career may find that they are very useful to the organizations at which they are employed, as many of the careers require a secondary education and specialized knowledge. Being employed in California has benefits as well, as the state offers many outdoor activities to enjoy and attractions to see as well as excellent weather. Additionally, the size of the state means that there are many options for where to live and to be employed.
Public Health Degrees and Career Paths in California
There are many careers within public health to pursue. Each profession contributes in different ways to the wellbeing of various populations. If you are interested in public health, the many job options means that there is highly likely to be one that suits your interests. Some of the public health careers can be started with a bachelor's degree, while others may require a master's degree or higher. Each career falls into a certain public health category. Below are some of the most popular public health fields where one can obtain expertise for specific careers.
Nutrition
Epidemiology
Maternal and child health
Biostatistics
Infectious disease
Global health
Environmental and occupational health
Health education and behavioral science
Public policy
The above fields are usually available as concentrations within a university's public health program. So, if someone is hoping to join a certain career, they can choose that concentration/specialty to learn the skills and knowledge to succeed. Many public health careers can be pursued by obtaining a public health masters degree or doctoral programs. Bachelor's degrees in public health are another option to enter the field, and they are primarily intended to help students gain foundational information in the field and to begin entry-level jobs. Students can begin a master's-level program by earning an undergraduate degree in different areas as long as they fulfill the application requirements of the California school of public health of their interest.
Some universities offer stand-alone educational programs focused on specific disciplines within public health. One such program is a Master's in Nutrition, that can focus on nutrition from both an individual and community perspective.
Some careers that one can obtain through earning a degree and choosing a concentration described above may include:
Disease Ecologist
Vaccine Researcher
Healthcare Policy Analyst
Health Services Manager
Public Health Engineer
Environmental Health Technician
Nurse Educator
Academic Policy Advisor
Biostatistician
Health Administrator
Toxicologist
California Public Health Credentialing
As mentioned in the previous section, those interested in public health work can become credentialed in a number of ways. Some individuals can begin some public health jobs without a degree, but most typically require at least the completion of a bachelors or master's education. Master's programs are helpful for those who want to earn a higher salary and/or take on a leadership role in various organizations. Some careers in public health require that individuals become licensed or certified through the California Department of Public Health (CDPH). These careers include:
Nursing Home Administrator – Those who want to become a nursing home administrator in California must complete a master's degree program with an internship of about 480 hours. They will follow all guidelines set by the CDPH and apply to take the appropriate exam for licensure. Once the license is earned, it should be renewed every two years.
Home Health Aide – Becoming a HHA in California involves completing a 120-hour CDPH-approved training program. This program involves an exam. Once a candidate has earned their license, they must renew it every two years.
Certified Hemodialysis Technician – To become a CHT in California, one must complete a Certified Hemodialysis Technician program that has been approved by the CDPH. These programs can range from 3-6 months. After a candidate takes the exam and earns their certificate, they must renew it in four years.
Certified Nurse Assistant – It takes 6-12 weeks to become a CNA. To become certified, one must complete a CDPH-approved certification program and take a competency evaluation exam. The CNA certificate must be renewed every two years in California.
Although there are dozens of other public health careers that don't require licensure, there are some that do. The general rules for earning a license for a public health degree or certificate, as demonstrated above, is to complete a program that has been approved by the state licensing boards. The next step in the process is to finish any requirements that are needed prior to taking the exam, such as any clinical practice hours for professions such as a public health nurse. Finally, one should expect to take their licensing exam.
California Public Health Associations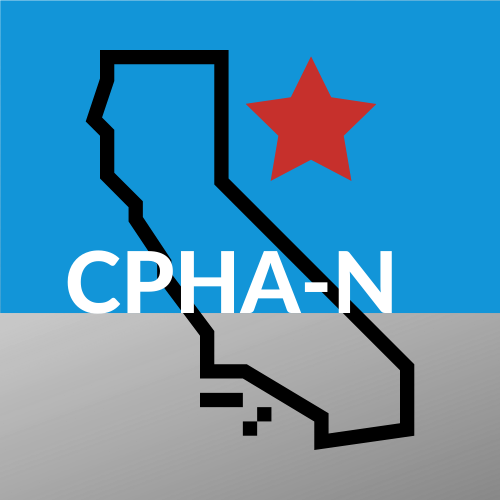 The CPHA is affiliated with the American Public Health Association. The collaboration between the two organizations exists so that the public health workers in the state and the entire country can share resources and expertise in order to advocate for their top priorities and needs. This organization speaks for public health organizations to improve the health of the public by influencing policy at a federal level.
---

This organization involves 10 health jurisdictions in Southern California who all collaborate to create equitable health policies and practices that they each take on. They work to promote change at a systemic level by collaborating with the community and local health departments. The PHASC's website has statistics that demonstrate the reason behind their mission, and they describe their approach as centering health equity and racial justice across their work.
---
Frequently Asked Questions about Public Health in California
What can you do with a public health degree?
There are many different careers that you can enter with a California public health degree. You can choose to go into a career with a bachelor's degree, or you can take the degree and apply for a graduate degree program in order to earn a higher salary or take on a leadership role. The kinds of careers you might be able to take on with a bachelor's degree in public health include:
Health Education Specialist
Community Health Worker
Public Health Researcher
Public Policy Writer
Environmental Health Officer
If you decide to go on to earn a CA master's degree in public health, there are multiple concentrations to choose from that will lead you to multiple career options. Some examples of these are outlined in the "Public Health Degrees and Career Paths in California" section of this article. Masters and doctoral degrees are for those who want to get more involved in public health at a higher level. The careers may even give professionals the chance to impact local, state, and federal policies to improve communities on a large scale. Choosing which public health career that you want to go into depends on your own goals and personality. The field is so vast that there is an option for many different types of people, from those who enjoy science and analytical thinking to those who are extroverted and want to work with people, and anyone in between.
Why should I earn a public health degree?
Earning a public health degree offers many benefits, from the skills you learn to the careers that open up to you. Public health programs will expand your perspective and teach you how the places people live affect their health in a variety of ways and the possible solutions. Once that is learned, entering a graduate public health degree program prepares you to dive more deeply into solutions to specific problems. Earning the degree isn't where the benefits stop, however. Upon entering your chosen career, you will continue to build upon the skills you learned in school and gain more skills once you are actually working with the community and with other professionals. You will also start to see the world in different ways. Skills picked up within a public health program and career include:
Communication
Cultural competency
Management planning
Leadership skills
Analytical and assessment skills
Policy development skills
Financial planning skills
Decision-making skills
Self-management skills
Even if you decide to not work in public health directly, many of the skills that you learn are transferable and desired in many other fields.
How do I get a degree in public health in California?
Earning a PH degree in California ultimately involves choosing a California university or college as one of the first steps. Cost may be a big deciding factor for some students, and some of the more economical options include attending a state university (the University of California schools) or attending certain local community colleges. The community college option is a great option for some, as California allows students to complete an Associates degree for transfer. This means that the student can complete their general education courses at a much lower cost and then transfer to a university for their main courses to earn their bachelor's degree. Even if they go on to earn a master's or other graduate degree, they will still have saved a significant amount of money. Attending a private university is also an option if the program is right for you.
Ultimately, the most important part is meeting all the application requirements for admittance. Each university has their own requirements. Another important aspect is ensuring that the university is accredited by institutions such as the Council on Education for Public Health (CEPH).
While applying for college, it can also be important to consider applying for financial aid. The Free Application for Federal Student Aid (FAFSA) is one of the main applications to fill out. This application takes into account your income as well as other factors to determine if you are eligible for any grants or federal loans. This is one of the main providers of student aid in the entire USA. Your chosen university may also provide scholarship information.
What are the highest paying public health careers in California?
One of the benefits of California is that it pays a higher salary than many other states. Below is a summary of some of the most lucrative careers in public health. Most of these careers require an advanced degree. The salary information comes from O*Net Online.
Computer and Information System Managers in Healthcare

CA Median Salary: $159,010 annually

Biochemist

CA Median Salary: $102,270 annually

Medical and Health Services Manager

CA Median Salary: $101,340 annually

Health Informatics Specialist

CA Median Salary: $99,270 annually

Biostatistician

CA Median Salary: $95,570 annually

Epidemiologist

CA Median Salary: $78,830 annually

Occupational Health and Safety Specialist

CA Median Salary: $77,560 annually

Emergency Management Director

CA Median Salary: $76,730 annually

Environmental Scientist

CA Median Salary: $76,530 annually

Health Education Specialist

CA Median Salary; $60,600 annually